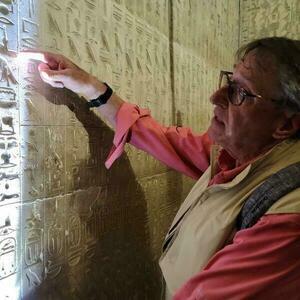 Rob Neyland
Special guest
University of Colorado, Journalism, Advertising, Anthropology. Child of a military family, he travelled the world growing up, fueling a lifelong interest in the ancient world. He resides in the ski town of Breckenridge, Colorado, and is an avid skier, sailor, mountain biker and sculptor. He has been a real estate broker and sculptor there for the last 42 years. As a sculptor in snow, he has performed in international competition all over the world and has won the gold medal on three continents.
Curiously, it was this expertise in reductive monumental sculpture that inspired his passion about the carving of the Great Sphinx and other monuments of ancient Egypt. After years of reading about it, he travelled to Egypt with Robert Schoch and Manu Seyfzadeh in 2019 and subsequently published a paper about the possible re-carving of the Sphinx from a sculptor's viewpoint. He returned to Egypt in 2022 to further his research on this subject, and published a second technical paper with Manu Seyfzadeh on the hidden story of the Sphinx in the Pyramid Texts of Unas.
Learn more about Rob's work at: www.FreeTheLioness.com
Rob Neyland has been a guest on 1 episode.
August 16th, 2023 | Season 4 | 1 hr 16 mins

ancient history, egypt, egyptology, history

Champion competitive sculptor and history buff Rob Neyland (FreetheLioness.com) joins me to discuss his fascinating and ground-breaking research into the true nature and history of the famous Egyptian Sphinx. Rob is known for using his advanced skills as a sculptor to create a stunning miniature "re-carving" of the Sphinx with a very different head to the one we currently see. Listen in to the conversation and see some of the ways our Egyptology (and general history) books need to be re-written.