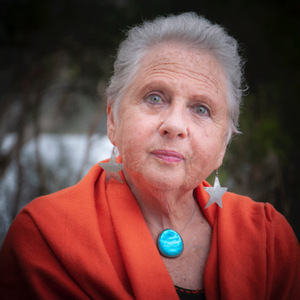 Nina Angelo
Special guest
Nina Angelo was born in Athens, Greece in March 1947. Both her parents were holocaust survivors having met in Auschwitz concentration camp. Her mother a young Polish girl and her father a Greek Spanish French Jewish man.
She arrived on earth with stars in her eyes and a forever joy and optimism. She was their first new life, after the losses of both her parent's families who were murdered by the Nazi's in the camps.
In 2009 Nina was awarded an Order of Australia for service to the Arts and the Central Coast Community.
Nina is a connector, a conduit, a fabric artist and storyteller, she believes that we are all creative beings. Nina is also a marriage celebrant who works with ceremony and ritual to honour our stories and our rites of passage.
Nina has worked closely with the Aboriginal people of this land for almost 40 years working in rural, regional and remote locations, as well as the indigenous people from the Pacific islands of Fiji , Tuvalu and in the Greek Islands.
Nina has written and published her memoirs Don't Cry, Dance, which includes her parent's authentic stories of their lives from childhood, to their survival through the Holocaust , migration to Australia with Nina as a two year old and their life here,

Nina was raised in a loving family that spoke and communicated in 13 languages. She believes we are all one, connected by our hearts and LOVE and that this is a most important time for us all to be walking and working together in the spirit of truth and peace.
Nina Angelo has been a guest on 1 episode.
November 17th, 2021 | Season 2 | 57 mins 50 secs

covid, medicine, vaccination

Nina Angelo is an Australian artist and storyteller whose sheer existence is the result of an incredible love story against all the odds. Her parents met serendipitously (if we can use that term) at Auschwitz during World War II. The fact that they even lived to meet is itself amazing because the Nazis killed the whole of their respective families, leaving only Nina's future parents. Having built a life in Australia as an artist over many years now, Nina - who knows the horrors of fascism only too well - is speaking out with a warning for the complacent masses of a dying Australia. Mandatory masks, vaccines, pervasive QR codes (tracking), covipasses, and the push for universal digital ID: the intentional installation of totalitarian control under the guise of "health and safety" measures against "covid-19" is only too clear to see for a (growing) minority of us. Perhaps an echo from the horrors of the second World War will break through the mass hypnosis before the Great Reset is complete?