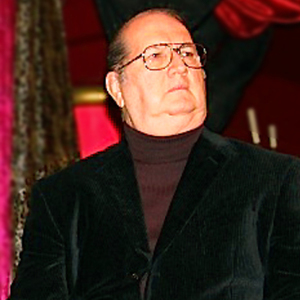 Jordan Maxwell
Special guest
Jordan Maxwell is a preeminent researcher and independent scholar in the field of occult / religious philosophy. His interest in these subjects began as far back as 1959. He served for three-and-a-half years as the Religion Editor of "Truth Seeker Magazine," America's oldest Free thought Journal (since 1873). Jordan also made documentaries for CBS TV Network and presented his own radio show under the banner of ABC. His work exploring the hidden foundations of Western religions, symbolism, and secret societies captivates audiences around the world.
Jordan believes these subjects are not just but crucial for us in these interesting times we live in! His extraordinary presentations include documents and photographs seldom seen elsewhere.
Jordan Maxwell's areas of interest include:
Astro-Theology
Sexual Symbolism in World Religions
Foundations of Modern-Day Religion
Secret Societies and Toxic Religion
World Mysteries: Ancient and Modern
Ancient Symbols and Occult Emblems
Ancient Sciences and Technology
Hidden Bible Teachings and Mysteries
The Sun in the History of Politics and Religion
The Story Your Church Doesn't Want You to Know
Secret Societies and Their Influence on World
Join Jordan Maxwell's Research Society for a small one-time donation here.
Jordan Maxwell has been a guest on 1 episode.
October 1st, 2020 | Season 1 | 58 mins 57 secs

conspiracy, deep state, secret societies

For centuries - probably millennia - humanity has been ruled over by secretive and powerful self-appointed groups of overlords and secret societies of various sorts. In all probability, no one human has done more to expose and elucidate this shadowy power network's modus operandi than the pre-eminent conspiracy researcher Jordan Maxwell, who has been at it for fully 60 years now. Now in his 80th year on earth, Jordan has inspired the likes of David Icke and Michael Tsarion in the excavation and revealing of earth's true power structure. Join me for a chat with the one and only Jordan Maxwell.