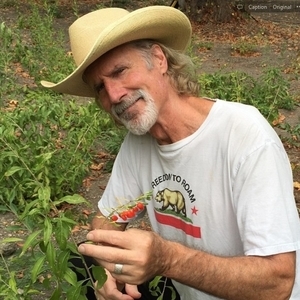 Dr Barre Lando
Special guest
As founder and formulator for Alfa Vedic, Dr. Barre Lando traveled an
eclectic path through athletics and academics in becoming a Physician,
Bioterrain Specialist & Permaculture farmer.
THE FOUNDATION: Dr. Lando was both a pre-law and pre medicine
undergraduate student recognized for maintaining a 4.0 GPA as a division
I scholarship football player, and competitive power-lifter. His
lifelong passion for the Martial Arts and surfing would eventually lead
to studies in Chinese Medicine and other alternative therapies, while
raising his family in exotic locations from Fiji to Hawaii in search of
better waves.
GRADUATE STUDIES: After completing graduate studies in Social
Psychology, he earned MICP certification from Stanford Medical School
then attended Naturopathic College with a curriculum emphasis in
Oriental Medicine and Classical Homeopathy. Seeking a stronger
foundation in musculoskeletal medicine he completed a Doctor of
Chiropractic degree graduating Summa Cum Laude and Kinesiology Diplomate
status.
PROFESSIONAL: University Social Psychology Instructor, professional
Paramedic-Firefighter, private practice Integrative Medicine clinician
of forty years.
MEDICAL SPECIALIZATION(S): Biological Terrain Medicine, Clinical
Kinesiology, Japanese Meridian Therapy, Functional Movement Specialist,
Craniopathy, Visceral Manipulation, Chiropractic Medicine, New German
Medicine, Oxidative Therapies, Metabolic Typing and Endobiogenics..
Dr. Lando is noted amongst his peers for his innovative clinical
strategies, and developed an international following for people
suffering from chronic degenerative conditions seeking his services as a
Bioterrain Medicine and Functional Movement Specialist. In more recent
years he earned his Master Gardener and Permaculture Design
certification and presently oversees his off-grid medicinal herb farm,
while teaching Biodynamic farming methods and Ionization Soil Analysis.
Now retired from clinical medical practice he remains active in the
internal martial arts, health consulting, creating formulations for his
herbal company and developing innovative medical protocols based on the
principles of Wave Form Physics.
Dr Barre Lando has been a guest on 1 episode.
December 24th, 2020 | Season 1 | 56 mins 49 secs

conspiracy, medicine, natural health

Dr Barre Lando is a guy with a diverse (to put it mildly) and extensive background in health and medicine - and I knew I had to get him on the show. This episode explores some of the most important health material of our time, ranging from the wave fields that underpin healthy biology, mindset as the biggest key to wellness, to the global depopulation agenda. Barre also reveals that he was given insider knowledge (by several highly placed people) of a global event that would be staged around the year 2020 - and which we have now been living through for months: the conrona plandemic. This was a very stimulating discussion and one NOT to be missed! I'll definitely be having Barre back on Truthiverse in future. You'll thank me for carving out an hour of your day for this one!