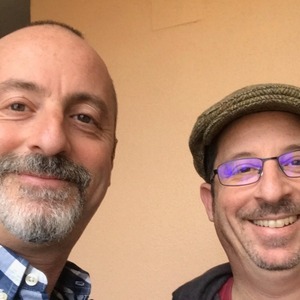 Adam & Josh Bigelsen
Special guest
Adam and Josh Bigelsen are the sons of Dr. Harvey Bigelsen who was a pioneer in the world of holistic medicine, and author of the groundbreaking books, Holographic Blood:registered: and Doctors are More Harmful than Germs. Both brothers are international speakers, holistic wellness coaches and educators for the Bigelsen Academy. They also lecture and teach workshops with their sister Lila.
Adam Bigelsen provides the latest research studies, and technology, to keep their method current and in the forefront of Holographic Blood.
As an educator, Adam has helped to develop the curriculum used to teach these methods. Adam currently works in Mexico where he and his team continue to offer the Bigelsen Method. Adam is also a music teacher, and is involved in the world of sound therapy.
Joshua Bigelsen worked side by side for over 15 years under the precision training by his father the famed Harvey Bigelsen. Joshua does collaborative investigations, educational trainings and works with Adam doing the Holographic Blood:registered: consultations.
Messages in the blood: Are you aware that your physical issues could be related to your emotions? Or that your lack of energy could be related to your teeth? Or that your emotional imbalances could be the result of your body being physically out of alignment? All of these are things that Dr. Harvey Bigelsen was able to see by looking at holograms in the blood. Dr. Bigelsen achieved over 25 years of clinical success applying the Terrain Paradigm of health and wellness. If you have questions regarding your health…the answers are in the blood.
"Over the course of his 25 years of research, Dr. Bigelsen has learned how to interpret images created by the blood in order to understand a person's total health. He has found that blood, like water, is a messenger of a person's emotion and consciousness. This is exciting and spectacular research and my hope is that it will be shared with the world."
-Dr. Masaru Emoto
Adam's Telegram channel: https://t.me/AdamBigelsen
Adam & Josh Bigelsen has been a guest on 1 episode.
May 29th, 2023 | Season 4 | 59 mins 36 secs

medicine, natural health, politics, spirituality

If you have questions regarding your health…the answers are in the blood. The Bigelsen name looms large over the field of blood analysis, and well it should. Adam and Josh Bigelsen are the sons of Dr. Harvey Bigelsen who was a pioneer in the world of holistic medicine, and author of the groundbreaking books, 'Holographic Blood' and 'Doctors are More Harmful than Germs.' For many years Dr Bigelsen used the method of holographic blood analysis to guide patient treatment and healing. The results were breathtaking. His sons Adam and Josh now carry the torch and continue their father's work. It represents nothing less than a total health revolution. As Edgar Cayce predicted many years ago, an individual's total health can be assessed with just one drop of blood - that is now true. The Bigelsens are doing just that, and they allow the body's internal wisdom to inform and guide treatment pathways. The outcomes are, overall, FAR superior to allopathic medicine. Cancer outcomes are just one example. We discuss how this work came about and why holographic blood analysis is SO powerful.

We also discuss: pleomorphism; the purpose of illness; the role of emotion in disease; why the body never attacks itself; common misunderstandings and misinterpretations of images in blood samples; people saying there are certain things in jabbed people's blood based on misinterpretation and non-recognition of the hologram phenomenon; why Lyme disease isn't what people think; the role of mould; the sliding scale of disease symptomology; what inflammation REALLY is; spirochetes; why their dad believed doctors were more harmful than "germs"; supplements; why the Bigelsens never see images of "viruses" in the blood and why they never treat for "viruses"; simple things you can do to support your health without products or pills.

Find the full episode inside The Truthiversity (link below).

Become a student of the Bigelsen Academy: bigelsenacademy.com

Become a member of The Truthiversity by Brendan Murphy: truthiversity.com